Eligibility for MBBS Admission in Top Private Medical Colleges of Bangladesh
About Eligibility Criteria for Admission of Foreign Students in the MBBS Course in private medical colleges in Bangladesh under self-finance scheme 2023-2024 Find the eligibility criteria
To process MBBS Admission in Bangladesh Marks require for MBBS Study in Bangladesh Minimum Eligibility Requirement to online application.
Eligibility for MBBS Admission in Top Private Medical Colleges of Bangladesh
Top private medical colleges in Bangladesh offer excellent opportunities for foreign students to pursue MBBS courses under the self-finance scheme for the academic year 2023-2024. Here are the key eligibility criteria for admission:
Academic Qualifications: Applicants should have completed their secondary education, equivalent to high school or higher secondary education, with a strong academic record. Most colleges require a minimum GPA or percentage score in the qualifying examinations, such as A-Levels, HSC, or equivalent.
Prerequisite Subjects: A background in science subjects is essential. Applicants should have studied biology, chemistry, and physics during their secondary education. Some colleges may also have specific subject-wise grade requirements.
Language Proficiency: Since the medium of instruction is primarily English in these colleges, applicants need to demonstrate proficiency in the English language. This can be done by providing scores of standardized English language proficiency tests such as TOEFL or IELTS. Minimum score requirements may vary among colleges.
Entrance Examination: Most private medical colleges in Bangladesh conduct their own entrance examinations for MBBS admission. The entrance examination evaluates the applicants' knowledge in subjects like biology, chemistry, physics, and sometimes includes an aptitude test. The specific requirements and format of the entrance examination may vary among colleges.
Application Process: Applicants need to complete the online application form provided by the respective colleges or the admission authority. The application process typically includes submitting academic transcripts, language proficiency test scores, and other required documents. Applicants should follow the guidelines provided by each college and ensure they meet the specified deadlines.
Minimum Eligibility Requirement for Online Application: The minimum eligibility requirement for online application varies among colleges. Applicants need to fulfill the college-specific criteria, including academic qualifications, prerequisite subjects, and language proficiency scores.
Please note that the specific eligibility criteria for MBBS admission in private medical colleges can vary among institutions. It is important to visit the official websites of the colleges you are interested in or contact their admissions offices directly to obtain accurate and up-to-date information regarding their eligibility criteria and the online application process for the 2023-2024 academic year.
To apply for MBBS admission in top private medical colleges of Bangladesh for the academic year 2023-2024, foreign students under the self-finance scheme should meet the academic qualifications, prerequisite subject requirements, language proficiency standards, and complete the online application process as specified by each college.
List of Medical Colleges in Bangladesh
MBBS Admission in Bangladesh for International Candidates
Best Medical Colleges in Bangladesh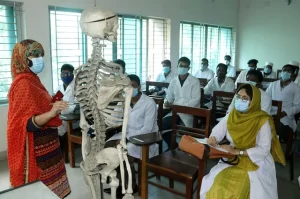 Army Medical College Jashore
Army Medical College Bogura
Diabetic Association Medical College
Sylhet Women's Medical College
Islami Bank Medical College
International Medical College
Marks Medical College
Popular Medical College
Ahsania Mission Medical College
Brahmanbaria Medical College
IBN SINA Medical College
Direct MBBS Admission Open on Best Medical Colleges in Bangladesh
FORTUNE EDUCATION OFFERS ON SPOT DIRECT MBBS ADMISSION
Fortune Education since 1994, Dhaka, Bangladesh is a sister concern of Fortune Healthcare Ltd. & registered education consultant of Medical College & Universities for medical aspirants & prospective students who are interested to study MBBS, BDS, BVSc and considering higher study opportunities in Bangladesh and overseas.
Fortune Education have legal rights to higher study & processing admission to Medical, Dental college, and universities all over the world. Offer MBBS, BDS & others Admission, Application, Guidance, Documentation, and required services such as to eligible students regarding medical and higher studies…
Some of the top medical colleges in Bangladesh are:
Army Medical College Bogura
Army Medical College, Bogura (AMCB) has started its journey on 28 Sep, 2014 after getting necessary approval from Government. The inauguration ceremony was held on 10 Jan 2015 along with four other Army Medical Colleges and begun its academic year 2014-2015 with the active inspiration of Honorable Prime Minister Sheikh Hasina, the then Chief of Staff Bangladesh Army Gen IqbalKarimBhuiyan, Maj Gen AKM Abdullahil Baquee, ndu, psc, Area Commander Bogura Area, Chairman, Governing Body of Army Medical College Bogura and all the Doctors and Staffs working in Army Medical College Bogura. On 11 Jan 2015 the college started conducting the class of 2014-2015 sessions with 50 students.
Army Medical College Bogura is a private Medical College under the control of Bangladesh Army and is run by a Governing Body, duly formed by the representative of Bangladesh Army, representative from Ministry of Health and Family affairs, representative from Bangladesh University of Professionals (BUP) and local members in health sector of Bangladesh government.
At present 60 students are being inducted each year in this medical college.AMC Bogura got the approval of. In future, the colleges will have the capacity to accommodate 150 students each year.
Foreign Students Admission at AMCB
It' a great pleasure to inform that foreign citizens who meet the criteria under the guidelines of
the Government of Bangladesh can get admission at Army Medical College Bogura (AMCB)
from the academic year 2022-2023.
Desirous students may contact the following authorized only representative of Army Medical
College Bogura to complete admission process getting attestation of concern departments,
processing of eligibility certificates, visa guidance, documentation, airport pickup-college
dropping etc services:
Fortune Education & Fortune Healthcare Ltd.
Head Office: 23/C, Zigatola, Dhaka-1209, Bangladesh
Bangladesh: +8801995529533
India: +919903355537
Email: fortunebangladesh@gmail.com
Website: www.fortuneedu.org
MBBS in Bangladesh Fees Structure 2023
The fees structure for MBBS programs in Bangladesh can vary among different medical colleges and universities. Here is a detailed overview of the approximate fees structure for MBBS in Bangladesh for the year 2023
Government Medical Colleges: Government medical colleges in Bangladesh are known for their comparatively lower tuition fees. The fees for international students in government medical colleges are typically in the range of $8,000 to $12,000 per year. This range may vary slightly depending on the college and its location.
Private Medical Colleges: Private medical colleges in Bangladesh generally have higher tuition fees compared to government colleges. The fees for international students can vary significantly among private medical colleges, and they typically range from $20,000 to $40,000 per year. The actual fees may depend on factors such as the reputation of the college, facilities provided, and location.
Additional Expenses: In addition to tuition fees, students should also consider other expenses associated with their MBBS program, including:
a. Hostel and Accommodation: Many medical colleges in Bangladesh provide hostel facilities for international students. The hostel fees can range from $500 to $1,000 per year, depending on the college and the type of accommodation chosen.
b. Examination and Registration Fees: Students are required to pay examination fees for each academic year, which can range from $100 to $500 per year. Additionally, there may be registration fees and other charges associated with university or college administration.
c. Books and Supplies: Students should budget for the cost of textbooks, reference materials, and other study supplies, which can vary depending on the curriculum and individual preferences.
d. Living Expenses: It is important to consider the cost of living, including food, transportation, healthcare, and personal expenses. The cost of living can vary depending on the location of the college and the student's lifestyle choices.
It's essential to note that the fees mentioned above are approximate figures and can vary based on the college, university, currency exchange rates, and other factors. The fees structure for MBBS programs may be subject to change, so it is advisable to visit the official websites of the medical colleges or contact their admission offices directly for the most accurate and up-to-date information regarding the fees structure for MBBS programs in Bangladesh for the year 2023.
Here is a list of some prominent medical colleges in Bangladesh:
Dhaka Medical College and Hospital
Sir Salimullah Medical College
Shaheed Suhrawardy Medical College
Mymensingh Medical College
Chittagong Medical College
Rajshahi Medical College
Sher-E-Bangla Medical College
Comilla Medical College
Khulna Medical College
Shaheed Ziaur Rahman Medical College
Rangpur Medical College
Sylhet MAG Osmani Medical College
Faridpur Medical College
Pabna Medical College
Cox's Bazar Medical College
Jessore Medical College
Shahid Syed Nazrul Islam Medical College
Kushtia Medical College
Satkhira Medical College
Sheikh Sayera Khatun Medical College
Jamalpur Medical College
Manikganj Medical College
Tangail Medical College
Sheikh Hasina Medical College, Jamalpur
Noakhali Medical College