MBBS in Bangladesh Fees Structure
Bangladesh Medical College Admission Fees 2023-24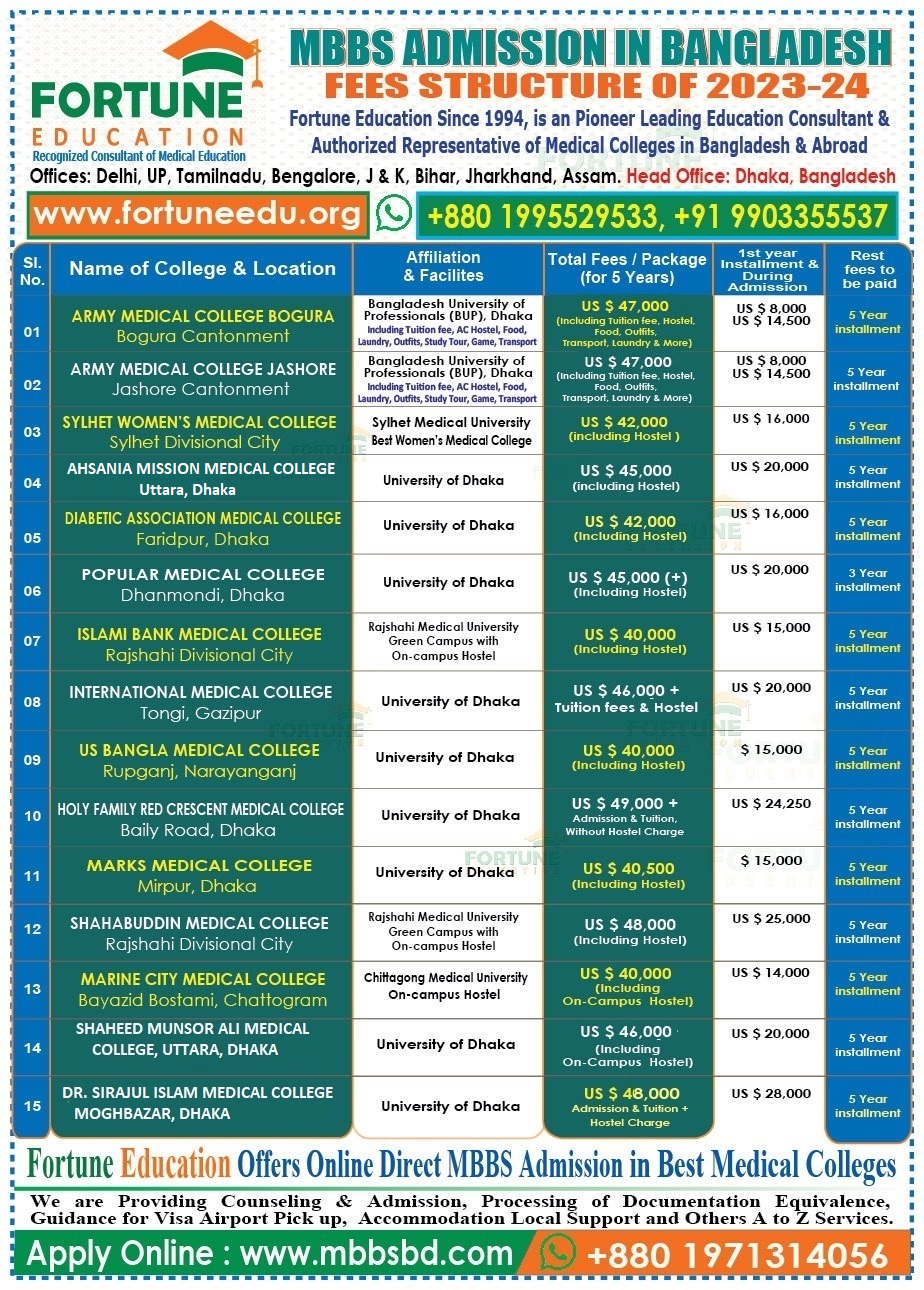 The admission fees for the 2023-24 academic year at Bangladesh Medical College (BMC) may vary slightly from the previous academic year, but here's an estimate based on the fees for the 2022-23 academic year:
Admission fee: The admission fee is non-refundable and may range from BDT 20,000 to BDT 30,000 (approximately USD 235 to USD 350).
Tuition fee: The tuition fee for the MBBS program may range from BDT 10,00,000 to BDT 11,00,000 (approximately USD 11,800 to USD 13,000) per year. The total tuition fee for the five-year MBBS program may be around BDT 50,00,000 to BDT 55,00,000 (approximately USD 59,000 to USD 64,500).
Other fees: There may be other fees such as registration fees, examination fees, library fees, laboratory fees, etc. that students may have to pay separately. These fees may vary depending on the program and the college.
It's important to note that these fees are subject to change, and students are advised to contact the college admission office directly for the most up-to-date and accurate information on fees and payment procedures.
Bangladesh Medical College (BMC) is a private medical school in Dhaka, Bangladesh. It was established in 1986 and is affiliated with the University of Dhaka as well as the Bangladesh Medical and Dental Council. The college offers a five-year Bachelor of Medicine and Bachelor of Surgery (MBBS) program, as well as postgraduate programs in various medical specialties.
BMC has a strong reputation for providing quality medical education and has produced many successful doctors and medical professionals who are serving in Bangladesh as well as abroad. The college has a modern campus with state-of-the-art facilities including a library, computer lab, anatomy lab, and other necessary labs.
In addition to academic programs, BMC also offers a range of extracurricular activities and opportunities for students to get involved in research and community service. The college is committed to providing a well-rounded education that prepares students to be competent and compassionate physicians who are committed to serving their communities.
A Gateway to Quality Medical Education
Embarking on a journey to become a medical professional is a transformative experience, filled with countless opportunities and challenges. Bangladesh has emerged as a sought-after destination for Indian students pursuing an MBBS degree due to its globally recognized curriculum, affordable tuition, and cultural similarities. Here are four notable medical colleges in Bangladesh that Indian students may consider:
Twice as nice, the Army Medical College in Bogura makes it to our list for its prestigious reputation. This military-affiliated institution provides a robust learning environment rooted in discipline and academic rigor. Indian students benefit from a comprehensive curriculum that aligns with international standards. Moreover, the state-of-the-art facilities and quality training offered by the college foster an environment that grooms well-rounded future medical professionals.
Diabetic Association Medical College
Situated in Faridpur, the Diabetic Association Medical College is a beacon of medical education. Affiliated with the University of Dhaka, this institution emphasizes community-oriented medical education, making it a suitable choice for students who wish to make a tangible difference in society's health. The college offers an MBBS program and is part of a larger medical complex that includes the Diabetic Association Medical College Hospital, thus providing students with immediate access to practical learning experiences.
Sylhet Women's Medical College
Empowering women in the medical field, the Sylhet Women's Medical College in Sylhet stands tall as an all-women's college. The college, affiliated with the Shahjalal University of Science and Technology, offers an MBBS program that focuses on academic excellence. Indian students get the chance to study in an environment that promotes women's empowerment and provides a globally recognized degree.
Each of these colleges follows the international standards of medical education and is recognized by various global medical councils, including the Medical Council of India (MCI). With a culturally similar environment, Indian students find it easier to adjust and excel in their medical journey in Bangladesh.
Start your medical journey in a country that values quality education and practical exposure. Explore the opportunities that await at these top medical colleges in Bangladesh. Embark on an enriching journey towards a successful medical career today. Get in touch with us for detailed information about the admission process, eligibility, and more.

Army Medical College Jashore
The Army Medical College, Jashore is a prestigious institution located in Jashore, Bangladesh. It is managed by the Bangladesh Armed Forces and is affiliated with the Bangladesh University of Professionals (BUP). Here's a bit more about the college:
Quality Education: The Army Medical College, Jashore offers an MBBS course with a curriculum that aligns with international standards. The medical program consists of both theoretical and practical coursework to provide students with a comprehensive understanding of the medical field.
Experienced Faculty: The institution boasts a team of skilled and experienced faculty who are dedicated to providing students with the best possible education and support throughout their academic journey.
State-of-the-art Infrastructure: The college offers modern facilities to ensure a conducive learning environment. This includes well-equipped laboratories, classrooms, a library, and other academic facilities.
Practical Training: As part of their education, students get practical training in affiliated hospitals. This helps students gain first-hand experience and understand the professional requirements of the medical industry.
Military Discipline: Being a military institution, the college instills a sense of discipline, responsibility, and leadership among students, qualities that are essential for a successful career in medicine.
Admission Process: For Indian students, the admission process involves submitting an application along with the required academic certificates, a copy of the passport, and meeting the eligibility criteria set by the respective college and the Directorate General of Health Services (DGHS), Bangladesh.
Ensure to verify the updated admission process and requirements for the year you're applying, as they may change over time. It's always best to check the official sources or directly contact the college.
Recognized Degree: Upon completion of the MBBS program, students will receive a degree recognized by the Medical Council of India (MCI), making it easier for graduates to practice in India after clearing the Foreign Medical Graduate Examination (FMGE).
Studying at the Army Medical College, Jashore provides students with a unique opportunity to gain quality medical education while also experiencing the rich culture and hospitality of Bangladesh.
MBBS in Bangladesh Total Cost
Five Years MBBS Course Fees Details for foreign (India) Students to Study Medical in Bangladesh All Fees are valid for the 2023-24 Session.
Currency exchange rates may vary US Dollar (US$) vs Indian Rupees (INR). For any MBBS fees in Bangladesh, related queries contact FORTUNE EDUCATION Call +88-01995529533 officially authorized to provide admission guidance and recruit students to the best medical college.
MBBS Course Fees in Bangladesh
| | | | | | | | |
| --- | --- | --- | --- | --- | --- | --- | --- |
| COLLEGE NAME | EST. | UNIV. | FEES IN US$ | 1ST YEAR PAYMENT | FEES IN INR | HOSTEL FEES | GPA |
| Bangladesh Medical College[1] | 1986 | DU | 49000 | 29000 | 3,634,697 | Taka 5000/month | 10 |
| Barind Medical College[3] | 2011 | RMU | 38000 | 11000 | 28,00,410 | Included | 7 |
| Community Based Medical College | 1995 | DU | 44000 | 15000 | 3,014,943.37 | Included | 7 |
| Dhaka National Medical College | 1925 | DU | 48000 | 20000 | 3,560,520 | $100/month With Food | 9 |
| Eastern Medical College | 2005 | CMU | 42000 | 16500 | 30,95,190 | Included | 7 |
| Enam Medical College | 2004 | DU | 45000 | 20000 | 3,080,483 | Extra | 7 |
| Green Life Medical College | 2009 | DU | 42000 | 22000 | 2,877,900 | US$100/Month | 7 |
| Khwaja Yunus Ali Medical College [1] | 2005 | RMU | 43100 | 15000 | 2,950,195 | Included | 7 |
| Kumudini Women's Medical College [1] | 2001 | DU | 43100 | 15000 | 2,950,195 | Hostel Included | 8 |
| Medical College for Women's Uttara Dhaka | 1992 | DU | 43000 | 21000 | 3,080,250 | AC Hostel $130/month | 9 |
| Monno Medical College [1] | 2011 | DU | 41500 | 15000 | 2,843,639 | Included | 7 |
| Southern Medical College | 2005 | CMU | 36000 | 18000 | 2,466,771 | Included | 7 |
| Sylhet Women's Medical College | 2005 | SMU | 42000 | 15000 | 2,601,100 | Included | 7 |
| Tairunnessa Memorial Medical College | 2002 | DU | 42000 | 16000 | 30,95,190 | Included | 7 |
| Uttara Adhunik Medical College | 2007 | DU | 44000 | 20000 | 3,050,000 | $120/month | 7 |

All Medical Colleges under Government University which are NMC (formerly MCI) Approved. All payments direct from Guardian/Parents bank account to the college account. Lowest Budget MBBS Study in Bangladesh. Low travel costs. Other expenses include Food, Books, and travel. No Hidden Cost. Compare MBBS in Bangladesh fee structure 2022.
Good News for Indian medical aspirants seeking MBBS Admission in Bangladesh there will be no fee hike in a few colleges this year, the fee remains the same as last year!
MBBS in Bangladesh
MBBS Fees in Bangladesh for Indian Students
Currency Exchange Rate US Dollar $1 = INR 81
Fees decided according to College Management.
The above Total Fees include all College Tuition Fees, Lab Fees, Development Fees, etc.
University Exam Fees Extra 10,000 Bangladeshi Taka = 8,000 INR for each University Exam Fee. Total Four Prof Exam in 5 years Total University Exam Fee 4 x 8000 = INR 32,000.
Food costs an extra actual per month mess bill.
Buy Medical Books Online Download Books Lists Here
Original Bones – Human Skeleton (No plastic bone-like China/Russia) – have to bear by a student in a group of 3-4 Indian students
No Hidden Charges or Hidden Costs. Travel cost and Food Charge Extra See Frequently Asked Questions
[1] In most demanding Medical Colleges, seats are fast filling.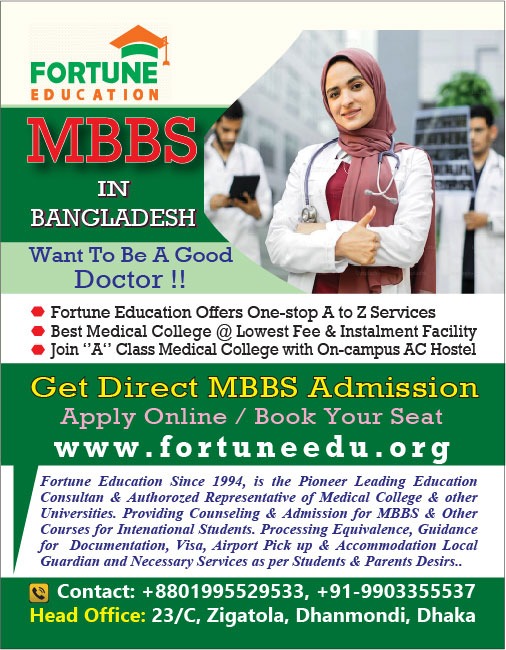 [2] Bangladesh Medical College (BMC) 2nd Campus in Uttara, Dhaka
[3] Nearest to India, Only 2.5 hours from Boarder
List of Medical Universities in Bangladesh
DU= Dhaka University (University of Dhaka)
CMU = Chittagong Medical University  (Chittagong University)
RMU= Rajshahi Medical University (Rajshahi  University)
SMU= Sylhet Medical University
MBBS Admission in Bangladesh for Indian Candidates