BM&DC Registration Requirements
Registration Examination for Foreign Trained Doctors – October 2023, Registration is ongoing.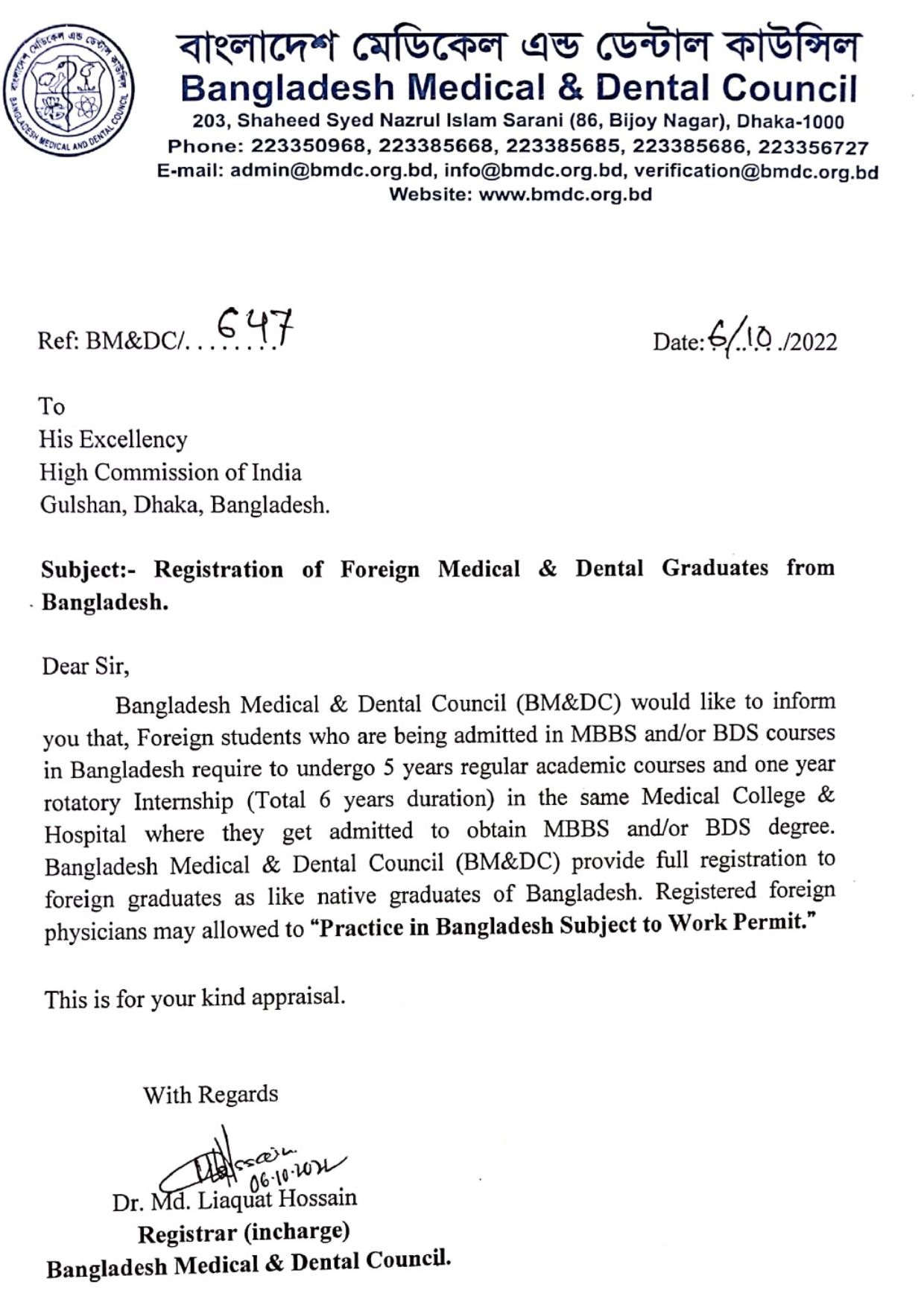 The Bangladesh Medical and Dental Council (BM&DC) is the regulatory body for medical and dental education and practice in Bangladesh. In order to practice medicine in Bangladesh, medical graduates must register with the BM&DC. Here are the general requirements for BM&DC registration:
Completion of a recognized medical degree program: In order to register with the BM&DC, a candidate must have completed a medical degree program from a recognized institution. The degree must be recognized by the BM&DC and the University of Dhaka.
Internship: After completing the medical degree program, the candidate must complete a one-year internship in a recognized hospital in Bangladesh. The internship must be approved by the BM&DC.
BM&DC registration exam: After completing the internship, the candidate must pass the BM&DC registration exam. The exam is designed to test the candidate's knowledge and competency in medical practice.
Application and documentation: The candidate must submit an application for BM&DC registration along with all required documentation, including transcripts, proof of internship completion, and registration exam results.
Fees: The candidate must pay the registration fee to the BM&DC.
Fortune Education has legal rights to process admission to Medical, Dental colleges and universities all over the world. We offer MBBS,
BDS & others Admission, Application, Guidance, Documentation, and required services such as to eligible students regarding medical and higher studies…
Fortune Education invites students to register for MBBS & BDS admission with a special Scholarship for the academic year 2023-24.
Download required pdf forms here, including Student Registration, Registration for Medical & Dental Practitioners, Registration for MATS etc.

Bangladesh Medical & Dental Council Pdf Registration Form
Online /Direct Admission & Seat Confirmation)
FOR ADMISSION AND OTHER QUARRIES, CONTACT:
Fortune Education Consultancy
AUTHORIZED REPRESENTATIVE
HEAD OFFICE :
DHAKA, BANGLADESH.
MOBILE & WHATSAPP: +880 1995529533
OFFICES IN INDIA:
MOBILE & WHATSAPP: 91-9903355537
WEST BENGAL, MODON MOHON STREET, KOLKATA,
PATNA, BIHAR, DELHI, JAMMU & KASMIR,
HYDERABAD, LUCKNOW, CHENNAI, AND GUWAHATI.