Army Medical College
Army Medical College Admission Circular 2023-24 has been posted currently. Here is the specific information approximately admission to AMC. Admission applying will start from 23 February 2023.The candidates can apply On-Line for admission in AMC within side the 2023-24 session. Only 50 students may be capable of every AMC admission application charge Tk. 1000 (One Thousand) pays earlier than making use of for admission. Four thousand college students may be able for the admission test. AMC admission circular was lately posted.
Information About AMC (Army Medical College)
AMC is a Military Medical College affiliated with the Bangladesh University of Professionals. There are 5 Army Medical faculties in Bangladesh. Bangladesh Army keeps these Private Medical Colleges. Here is the brief data about Army Medical College
AMCB  was set up in 2014. The whole number of seats for admission is 50. AMCB started its Academic activities on 10 January 2015. In 2018, it was the 4th Batch running, and AMCB has 200 MBBS college students now.
Army Medical College, Chittagong
AMCC is placed in Chattogram Cantonment, Bangladesh. Army Medical College, Chittagong was installed in 2014 and began its educational activities on eleven January 2015. 1st batch was effectively launched in May 2016.
Army Medical College, Comilla
The authentic website of AMCC  is (amccomilla.edu.bd). AMCC was set up on 10 January 2015, and this college began its' educational journey on eleven January 2015
AMCJ  was set up in 2014 and began scholarly works in 2015. AMC presents a five-year course of Bachelor of Medicine, Bachelor of Surgery (MBBS) degree. The final year is obligatory for an internship after commencement for all graduates.
Rangpur Army Medical College, Rangpur
Government, therefore, decided to establish Rangpur Army Medical College (RAMC) to fulfill the requirements of militarily motivated and qualitatively better medical graduates for induction in the Armed Forces as well as to release a sizable number of better skilled and disciplined doctors for the national health care service.
Fortune education is the exclusive authorized Representative for All Army Medical College, Bangladesh. Processing direct admission with one-stop services. Contact: Mobile & WhatsApp: +8801995529533, India: +91-9903355537
Eligibility for Army Medical College Admission Circular
Check your eligibility for Admission. Here is the detailed information for admission requirements.
Physical Requirements
Minimum height: Male- 5'4″, Female- 5'2″.

Weight: Male- 45.45 Kg, Female- 40.90 Kg.

Chest size: Male- Normal: 30″   Expanded: 32″ ,  Female- Normal: 28″   Expanded: 30″.

Visual standard: ± 1.5 D (spherical); ± 1.0 D (cylindrical).

Hearing: Normal limit.
Note: Applicant must not be colorblind.
Educational Qualification
The AMC Cadets must have a total GPA of 10.00 (SSC-5.00, HSC-5.00) and must have a minimum GP(Grade Point) of 3.50 in Biology in HSC or its equivalent examinations.
Eligibility
Age: must be a minimum of 20 years on 13 March 2022.

Sex: Male/Female will get a chance for admission.

Marital Status: Unmarried

Nationality: The candidate must be Bangladeshi by birth.
Educational Expenses for AMC
Check expenses for study in AMC.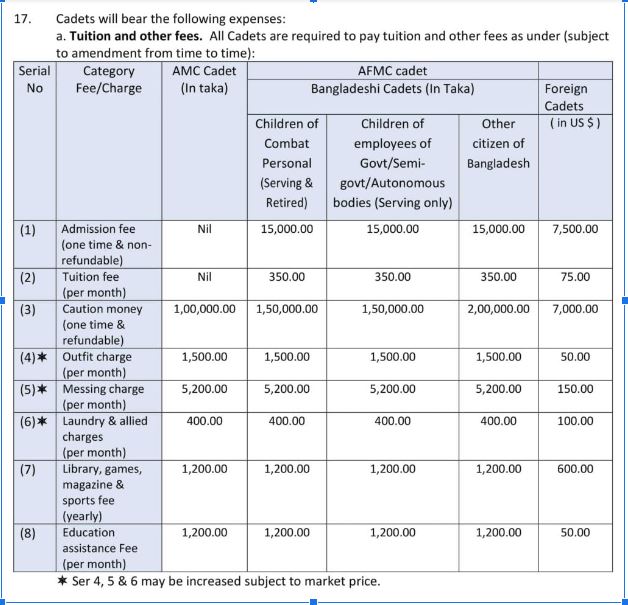 Fortune education is the exclusive authorized MBBS admission consultancy for army medical college. We provide all the details of admission. There are many firms around and they have a variety  offers but not all of them can give you the desired results. You will have better results if you work with Fortune education to get admission into any college of your choice. We provide you best packages and services to MBBS aspirants.
Fortune Education has legal rights to process admission to Medical, Dental colleges and universities all over the world. We offer MBBS, BDS & others Admission, Application, Guidance, Documentation, and required services such as to eligible students regarding medical and higher studies…Fortune Education invites students to register for MBBS & BDS admission with a special Scholarship for the academic year 2023-24.
(Online /Direct Admission & Seat Confirmation)
FOR ADMISSION AND OTHER QUARRIES, CONTACT:
Authorized Representative
HEAD OFFICE :
DHAKA, BANGLADESH.
MOBILE & WHATSAPP: +88-01995529533
---
OFFICES IN INDIA:
MOBILE & WHATSAPP: +91-9903355537
WEST BENGAL, MODON MOHON STREET, KOLKATA,
PATNA, BIHAR, DELHI, JAMMU & KASMIR,
HYDERABAD, LUCKNOW, CHENNAI, AND GUWAHATI.
List Of Army Medical College In Bangladesh
Army Medical College Rangpur
Army Medical College Chittagong
Army Medical College Comilla