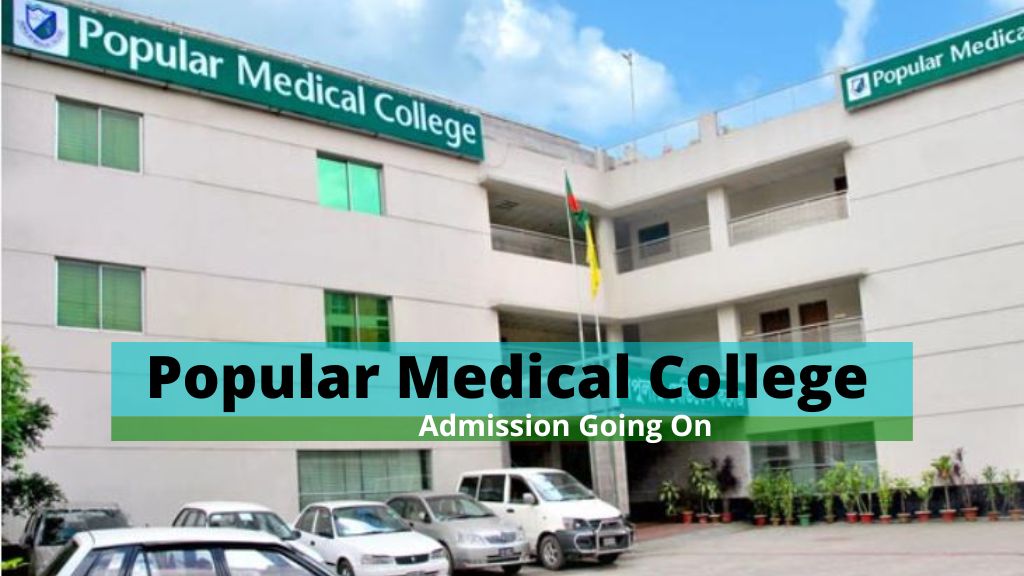 Popular Medical College Bangladesh Fee Structure
Popular Medical College Hospital is the only state-of-the-art provider of total healthcare in the private sector in the country and is a prestigious Popular Group concern. Established in 2010 at a prime location in Dhaka city, this college has earned an enviable reputation for its exceptional care in preparing students for their MBBS course. Most amenities are located within a 5-kilometer radius of the college, and the campus is connected by all modes of transportation to nearby shopping centers and dining establishments.
The college has a well-equipped residential student hostel located near the college, complete with a canteen and group catering provisions. The university's academic building also has a sufficient number of well-equipped, air-conditioned lecture halls for large group classes, exams and social events. In addition, each department has its own laboratory, museum and library.
Popular Medical College overview
Affiliation : The college is affiliated with Dhaka University as a constituent college. The college is listed with the World Health Organisation and International Medical Education Directory (IMED).

Chairman : The chairman of the college is Md. Mustafizur Rahman

Medium of Instruction : English

Established : 2010

Number of students: 430

Campus : Urban

Courses offered : MBBS

Duration : 5 years + 1year compulsory Internship

Eligibility : HSC or equivalent examination with the subjects of Physics, Chemistry and Biology.

Academic Session : Jan-Dec

Weather : The climate of Dhaka is very pleasant. Winter-Max:15°C Min:10°C | Summer-Max:36°C Min:27°C.

Food : Nutritious and hygienically prepared food available in the college. All vegetables available in India are also available in Bangladesh.

Location : The college is located in Dhanmondi, Dhaka.
Eligiblity Criteria of Popular Medical College Bangladesh
Programme

: International MBBS Program Published by Dhaka, English medium.

Medium

: The medium of instruction is English.

Study Duration

: 5 years of study and 1 year of internship. The internship can be completed either at the university or in the home country.

Eligibility

:

Minimum cumulative GPA in SSC or equivalent and HSC or equivalent: 7.00

Minimum GPA in Biology: 3.5

MCI Eligibility

: Certificate of Eligibility for Primary Medical Qualification (MBBS or its equivalent) by an Indian Citizen / Overseas Citizen of India is mandatory as per Section 13(4B) of the Indian Medical Council Act, 1956. 

OMAT

: The Overseas Medical Admission Test aims to provide a uniform testing and marking system to enable universities to make the most informed choice about the quality of students they wish to enroll.
Popular Medical College Bangladesh Fee Structure
The total amount of the five-year package is only $45,000 (forty-five thousand), including the five-year tuition. Government fee, university fee, accommodation and internship fee (refundable during internship). food has to be paid for separately to secure an interested party.
advantages of studying at Popular Medical College
The cost of studying at Popular Medical College is much less than all Indian private colleges (with almost the same facilities as good private colleges in India).

Cost of living in Bangladesh is lower than in India.

Popular Medical College is very close to India.

The duration of MBBS at Ibrahim Medical College is only 5 years. Unlike some other MBBS destinations abroad, students can start their career a year earlier.

The educational methods and curriculum are the same as in India.

There is no need to appear for any language entrance exams (like IELTS/TOEFL/PTE) to get admission in MBBS at Popular Medical College.

The local people of Bangladesh have a friendly relationship with the Indian students.
Hostel and Accommodation at Popular Medical College Hospital
The popular Medical College Hospital has an exemplary hostel with proper sanitation and hygiene. There are separate hostels for boys and girls. The hostel is kept under strict supervision to ensure the safety of the students. Some other features are:-
Common rooms and TV

High standard of security

Reading rooms

Cafe – Provides Indian food as there are a large number of Indians studying there.

The hostel is mostly 2-bed and spacious for living

It provides a good study environment.
Popular Medical College Scholarships Programs
Popular Medical College scholarship programs aimed at providing financial assistance to eligible students for scholarships according to the criteria established by Popular Medical College.
FOR ADMISSION/SEAT CONFIRMATION & OTHERS PROCESSING CONTACT:
(Online /Direct Admission & Seat Confirmation)
FOR ADMISSION AND OTHER QUARRIES, CONTACT:
AUTHORIZED REPRESENTATIVE
HEAD OFFICE :
DHAKA, BANGLADESH.
MOBILE & WHATSAPP: +88-01995529533
---
OFFICES IN INDIA:
MOBILE & WHATSAPP: +91-9903355537
WEST BENGAL, MODON MOHON STREET, KOLKATA,
PATNA, BIHAR, DELHI, JAMMU & KASMIR,
HYDERABAD, LUCKNOW, CHENNAI, AND GUWAHATI.