Altai State Medical University
Altai State Medical University Russia
Altai State Medical University (ASMU) is a renowned medical institution located in Barnaul, Altai Krai, Russia. With a rich history spanning over 70 years, ASMU has earned a reputation for providing high-quality medical education and producing skilled healthcare professionals.
Here are some key features and highlights of Altai State Medical University:
Academic Programs: ASMU offers a wide range of undergraduate and postgraduate programs in medicine and healthcare. The flagship program is the General Medicine program, which provides comprehensive training in various medical disciplines. Additionally, ASMU offers dentistry, pharmacy, nursing, and preventive medicine programs, among others.
Accreditation and Recognition: Altai State Medical University is recognized by the Ministry of Education and Science of the Russian Federation. It is listed in the World Directory of Medical Schools (WDOMS) and holds accreditation from the Russian Federation's Federal Service for Supervision in Education and Science.
Faculty and Expertise: ASMU takes pride in its highly qualified faculty members who are experienced professionals in their respective fields. The university emphasizes the importance of practical training and ensures that students receive hands-on experience in modern laboratories and clinical settings.
Research and Innovation: ASMU promotes scientific research and encourages students to engage in research activities. The university has several research centers focusing on various medical disciplines, enabling students to contribute to advancements in healthcare and gain valuable research experience.
Infrastructure and Facilities: Altai State Medical University boasts state-of-the-art facilities, including modern lecture halls, well-equipped laboratories, computer centers, a library with an extensive collection of medical literature, and clinical training centers. These resources create a conducive learning environment for students.
International Collaboration: ASMU actively participates in international collaborations, facilitating student and faculty exchange programs, joint research projects, and academic partnerships with universities and institutions worldwide. This international exposure enhances the educational experience and broadens students' perspectives.
Student Support Services: The university provides comprehensive support services to students, including assistance with accommodation, visa support, extracurricular activities, and student organizations. ASMU strives to create a nurturing and inclusive environment for students to thrive academically and personally.
Alumni Network: Altai State Medical University has a vast network of alumni who have achieved success in their medical careers globally. The alumni association offers a platform for networking, professional development, and mentorship opportunities.
Located in the beautiful Altai region of Russia, Altai State Medical University offers a stimulating educational experience for aspiring medical professionals. Its commitment to academic excellence, research, and practical training equips students with the knowledge and skills necessary to excel in their medical careers.
Altai State Medical University (AGMU) is one of the leading medical universities of Russia in the West Siberian part, which carries out high-quality medical training. Altai State Medical University is located in the southeast of Russia in the city of Barnaul, the capital of the Altai Region.
Altai State Medical University has been a source of qualified specialists for the regional health system for sixty years. 25,000 doctors and pharmacists who work in the Altai region, in the Republics of Altai and Tuva, and in countries near and far abroad, have graduated from the university. 90% of doctors and pharmacists in the Altai region are graduates of AGMU.
Altai State Medical University is administered by the Ministry of Health of the Russian Federation. It is one of the main centers for research, education and cultural exchange. The international community at the university shares its social heritage with each other and thus they adopt each other's culture. Altai Medical University has produced more than 30 thousand graduates. More than 4,000 students study at AGMU every year.
The majority of students come from the Russian Federation with about 1,000 international students.
Altai State Medical University – a unique holistic body that unites doctors both on the basis of professional communication and on the basis of common interests and hobbies. The university absorbed the experiences and achievements of students of different generations. Society of graduates of Altai Medical University of all generations – an unbreakable brotherhood.
Eligibility for admission to Altai State Medical University
Applicants must check the eligibility before filling the application form.
Altai Medical University is one of the most famous universities in Russia. The university offers various undergraduate, postgraduate and doctoral courses There are no entrance exams for admission as the admission process is strictly on a first-come, first-served basis.
Eligibility Criteria of Altai State Medical University.
Successful completion of the 10+2 exam in physics, chemistry, biology and English (min. 50%)
Marks Requirement:Candidate must have secured 50% marks in their 12th standard from Science stream.
Age: Applicant must have attained the age of 17 years at the time of admission.
NEET: Candidates must have qualified in NEET exam.
Altai State Medical University admission procedure 2023-24
Altai State Medical University MBBS admission starts in June. Seating is limited and is on a first-come, first-served basis. Early applications help secure a place at the university and accommodation of your choice. To avoid disappointment on these fronts, it is advisable to apply for admission as early as possible.
The deadline for submitting an application is October 30.
Altai State Medical University: Quick Highlights
Founded In 7 August, 1954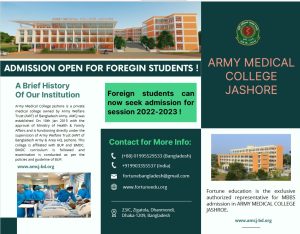 from date of Apply Last Week Of June
Ending Dtae of Apply Last week of September 2023
Study Medium English & Russian
NEET-UG Entrance Exam Yes, Compalsory
Tuition Fee of MBBS Per Year 5300 USD
Place Barnaul, Altai
Recognized By MCI &  WHO
Duration of MBBS Course 6 Year
Type of University Public
Eligibility 50 % In PCB of 12th
Official Website https://asmu.ru
Altai State Medical University World Ranking
According to the 4icu, the World ranking of Altai State Medical University is 4474 among all universities worldwide. Altai State Medical University Rank under 194 among Russian Medical Universities.
World Ranking Continental Ranking Country Rank Presence Impact Openness Excellence
4474 2486 194 6374 9467 8635 5778
Altai State Medical University Fee Structure 2023:
Type of Currency Tuition Fee Hostel Fee
Fee In USD 4100 USD 500 USD
Fee In Indian Rupee 3,07,500 INR 37,500 INR
Student life at Altai State Medical University
Hostel And Accommodation of Altai State Medical University
Altai State Medical University has three hostels located in the city center. The dormitories are close to major public transport routes, making the most important destinations accessible. There are playgrounds and sports fields, reading rooms that help our students use their time in the most efficient and pleasant way possible.
The hostel is closely connected with an ATM, phone charging stations, retail shops and buffets. While staying in the dormitory, medical students can use the gymnasium, swimming pool, reading rooms and common areas.
Advantages Of Study MBBS In Altai State Medical University
When we look at the benefits that will be available to you whenever you study MBBS in Russia at Altai State Medical University, there are several available. Few of them are:
Top faculties.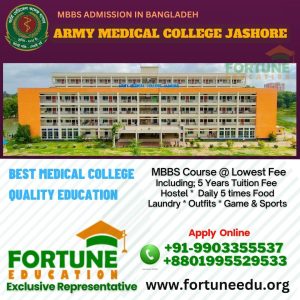 Low fees for hostels and school fees.
First class security.
Scholarship programs available.
Modernization equipped the campus.
Ragged vacant campus.
Public transport is available.
Only NEET UG examination is required.
The form of teaching is English.
Well-equipped classrooms and a research laboratory.
Emergency services are also available.
A Pathway to Quality Medical Education
Are you aspiring to pursue a career in medicine and seeking a top-notch MBBS program? Look no further than Bangladesh! Renowned for its high standard of medical education, Bangladesh has emerged as a sought-after destination for international students seeking to study MBBS. With its well-established medical institutions, experienced faculty, affordable tuition fees, and a multicultural learning environment, Bangladesh offers an excellent platform for students to realize their dream of becoming successful doctors. Let's explore why studying MBBS in Bangladesh is a smart choice.
Quality Medical Education: Bangladesh boasts several prestigious medical universities and colleges that are recognized globally for their excellence in medical education. These institutions are affiliated with the Bangladesh Medical and Dental Council (BMDC) and recognized by esteemed organizations such as the World Health Organization (WHO) and the Medical Council of India (MCI). The comprehensive and rigorous curriculum ensures that students receive a solid foundation in medical sciences, clinical skills, and research.
Experienced Faculty: Medical universities in Bangladesh are staffed with highly qualified and experienced faculty members who are experts in their respective fields. They provide comprehensive guidance, mentorship, and support to students throughout their academic journey. The faculty-student ratio is optimal, ensuring personalized attention and a conducive learning environment.
Advanced Infrastructure: Medical universities in Bangladesh are equipped with state-of-the-art infrastructure and modern facilities to facilitate effective learning. They have well-equipped laboratories, libraries, research centers, and hospitals where students can gain hands-on practical experience under the guidance of experienced professionals. The institutions also embrace modern teaching methods, including audio-visual aids and e-learning platforms, to enhance the learning experience.
Affordable Tuition Fees: Studying MBBS in Bangladesh is a cost-effective option compared to many other countries. The tuition fees are significantly lower without compromising the quality of education. Additionally, the overall cost of living in Bangladesh is relatively affordable, making it an attractive choice for international students. Scholarships and financial assistance are also available for deserving students, further easing the financial burden.
Multicultural Environment: Bangladesh is known for its warm and welcoming culture. As an international student, you will have the opportunity to interact and learn alongside students from diverse backgrounds. This multicultural environment fosters a global perspective, enhances cross-cultural communication skills, and prepares you to serve patients from various cultural backgrounds in the future.
Clinical Exposure: Medical universities in Bangladesh provide ample opportunities for clinical exposure, which is crucial for a medical student's practical learning. Through affiliations with renowned hospitals and clinics, students have the chance to observe and actively participate in real-life medical cases, gaining invaluable experience and honing their clinical skills.
Recognition and Global Opportunities: The MBBS degree obtained from a recognized medical university in Bangladesh is globally recognized. Graduates are eligible to appear for various international medical licensing examinations such as the United States Medical Licensing Examination (USMLE), the Medical Council of Canada (MCC) examinations, and the Professional and Linguistic Assessments Board (PLAB) in the United Kingdom. This opens up a world of opportunities for medical graduates to pursue postgraduate studies or practice medicine in their home country or abroad.
In conclusion, studying MBBS in Bangladesh offers a combination of high-quality education, experienced faculty, advanced infrastructure, affordable fees, and a multicultural environment. By choosing Bangladesh as your destination for medical education, you can lay a strong foundation for a successful medical career. Embark on this enriching journey and shape your future as a compassionate and skilled medical professional.
Army Medical College Jashore
Army Medical College Bogura
I'm sorry, but I couldn't find any specific information about "Army Medical College Bogura" or "Army Medical College Jashore" in my training data. It's possible that these institutions may be newly established or have limited online presence.
However, if you are interested in joining an Army Medical College in Bangladesh, there are renowned medical institutions associated with the Bangladesh Army, such as the Armed Forces Medical College (AFMC). The AFMC is a prestigious institution known for its high standards of medical education and training. It offers undergraduate and postgraduate medical programs, including MBBS, BDS, and various specialized courses.
The AFMC follows a rigorous curriculum, providing comprehensive theoretical knowledge and practical training. The institution boasts experienced faculty members, well-equipped laboratories, advanced medical facilities, and affiliations with major military hospitals. Students at the AFMC benefit from a disciplined environment and exposure to military medical practices.
To get more specific information about "Army Medical College Bogura" or "Army Medical College Jashore," I recommend reaching out to the official websites or contacting the Bangladesh Army or the Directorate General of Medical Services (DGMS) in Bangladesh. They will be able to provide you with the most accurate and up-to-date information regarding these institutions.
Fortune Education, Dhaka, Bangladesh has established since 1994. We are authorized representative of medical colleges in Bangladesh to support students with their entire application process and also helps in guidance to make the decision about their courses, and scholarships while studying abroad.
We are an authorized medical education consultant based in Dhaka, Bangladesh provides admission in top-ranked medical college & universities with special waiver & scholarships. Our local office, associate and staffs are recruiting students to study in Bangladesh & abroad.
Fortune Education provides counseling & guidance to prospective students who are interested in medical education such as MBBS, BDS, M.VSc, MDS, MD, MS, M.Phil, and higher education opportunities in Bangladesh also provides direct MBBS admission, college/university selection, a wide variety of graduate & undergraduate programs.
Our local office & experienced staffs are processing application for MCI, Equivalence certificate, documentation, visa guidance & pre-departure services (6 years local support, accommodation, transportation etc.
Apply Now
Online /Direct Admission & Seat Confirmation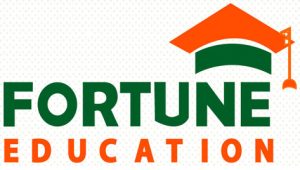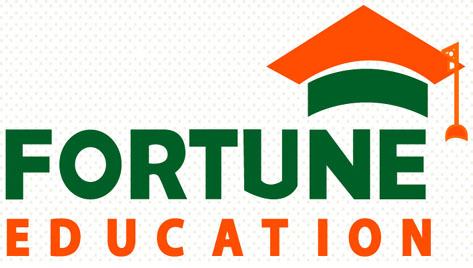 AUTHORIZED REPRESENTATIVE
HEAD OFFICE:
DHAKA, BANGLADESH.
MOBILE & WHATSAPP: +88-01995529533
OFFICES IN INDIA:
MOBILE & WHATSAPP: +91-9903355537
WEST BENGAL, MODON MOHON STREET, KOLKATA,
PATNA, BIHAR, DELHI, JAMMU & KASMIR,
HYDERABAD, LUCKNOW, CHENNAI, AND GUWAHATI.