Application of Equivalence
Application of Equivalence from DGMC via Fortune Education
Application of Equivalence from Dhaka Global Medical College via Fortune Education
Fortune Education
Fortune Education, as the exclusive representative of Dhaka Global Medical College (DGMC), takes pride in offering students across the globe the opportunity to pursue a career in medicine. This document outlines the application process for equivalence of high school certificates or pre-medical qualifications for prospective students aiming to enroll in medical programs at DGMC.
Step 1: Understanding the Equivalence Requirement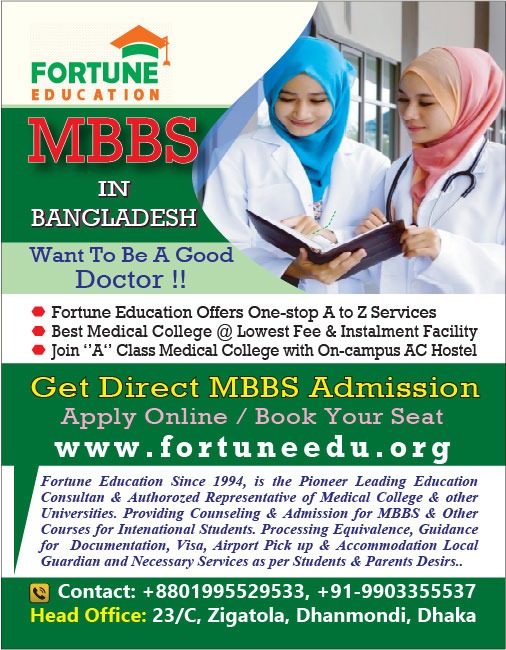 Equivalence is the process of evaluating a foreign educational qualification to determine its comparability with the local educational system in Bangladesh. This is a mandatory step for international students who have completed their secondary education outside Bangladesh and wish to apply for undergraduate programs at DGMC.
Step 2: Documentation for Equivalence
Candidates are required to submit the following documents:
Original and attested copies of high school diploma or pre-medical certificate.
Transcripts or mark sheets of all high school years or pre-medical courses.
A certificate of completion or leaving certificate from the last attended school.
Proof of nationality (e.g., passport, national ID card).
Equivalence application form, available through Fortune Education or DGMC's website.
Step 3: Submitting Your Application
Applications for equivalence should be directed to the Directorate General of Health Services (DGHS) of Bangladesh, as it is the authorized body to grant equivalence. However, Fortune Education facilitates this process for DGMC applicants by providing guidance and ensuring that all documentation is properly submitted.
Step 4: Processing and Verification
Once submitted, the DGHS will review and verify the authenticity of the documents. This process includes a thorough check of the credentials by the Equivalence Committee. Fortune Education will keep the applicants updated on the status of their application.
Step 5: Issuance of Equivalence Certificate
Upon successful verification, the DGHS will issue an Equivalence Certificate, which states that the candidate's educational qualifications are equivalent to the Higher Secondary Certificate (HSC) of Bangladesh, making them eligible to apply for undergraduate courses at DGMC.
Step 6: Application to Dhaka Global Medical College
With the Equivalence Certificate, students may proceed to apply to DGMC through Fortune Education. The application package must include:
A completed DGMC application form.
A copy of the Equivalence Certificate.
Additional documents as specified by DGMC's admission criteria.
Step 7: Acceptance and Enrollment
Once the application is reviewed and accepted by DGMC, Fortune Education will assist the candidate in the enrollment process, including guidance on visa application, accommodation, and orientation programs.
Conclusion
Fortune Education is committed to ensuring a smooth and transparent process for obtaining equivalence and applying to Dhaka Global Medical College. We believe in nurturing global talent and providing students with quality medical education. For further assistance, our dedicated team is available to support you every step of the way.
Must have passed qualifying examinations (HSC/ 'A' level) or equivalent examination.
SSC/ 'O' level or equivalent examination passed not before 2020
HSC/ 'A' level or equivalent examination passed not before 2022
Minimum aggregate GPA in SSC / 'O' level or equivalent and HSC
'A' level or equivalent examination: 7.00 for private medical college.
Minimum GPA either in SSC / 'O' level or in HSC / 'A' level or equivalent examination: 3.5
Minimum GP in Biology: 3.5
Minimum aggregate GPA in SSC / 'O' level or equivalent and HSC / 'A' level or equivalent examination: 9.00
for SAARC Quota.
For calculation of GPA against the marks obtained in HSC/ 'A' level or equivalent exam, only 3 subjects (Physics, Chemistry, and Biology) are considered for calculation of GPA. Qualifying Grade for MBBS in Bangladesh in each subject individually is "C". Therefore, GPA in 'A' level = [Total marks obtained in three subjects.
For more information contact with Fortune Education