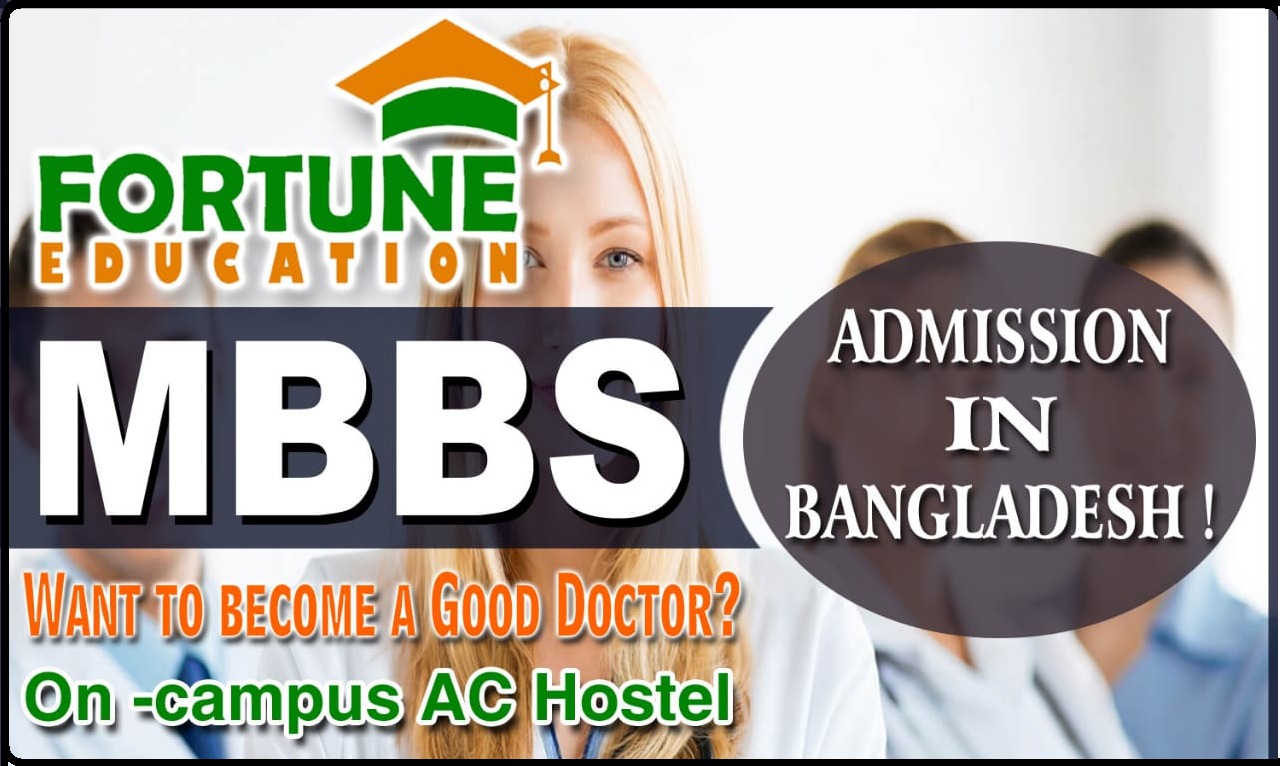 MBBS Admission Counselling in Bangladesh
Unveiling the MBBS Admission Process in Bangladesh: Your Guide to Success
Meta Description: Explore the comprehensive guide to MBBS admission in Bangladesh. Get expert counselling, understand eligibility, and sail smoothly through your application process.
MBBS Admission Counselling in Bangladesh
Welcome to Fortune Education Consultancy
An Ultimate Guide to MBBS Admission Counselling in Bangladesh
the gateway of your dreams. Navigating the admission process for an MBBS degree in Bangladesh can be overwhelming, but our comprehensive guide is here to simplify it. As one of the preferred destinations for international students, Bangladesh offers world-class medical education that paves the way for a rewarding career in healthcare.
The Road to Global Healthcare Excellence
Studying MBBS in Bangladesh equips you with a globally recognized medical degree, state-of-the-art knowledge, and hands-on clinical practice. Experience quality education in modern classrooms, advanced laboratories, and well-equipped hospitals. Bangladesh's medical universities adhere to international standards, making their graduates fit to practice medicine anywhere in the world.
Demystifying the Admission Process
The admission process involves several stages, from eligibility verification to counselling sessions. Let's break it down:
Fortune Education Consultancy, we are your dedicated one-stop service provider for MBBS in Bangladesh, specialized in guiding and empowering aspiring doctors to achieve their medical dreams.
Providing One stop services with Documentation, MBBS in Bangladesh, Admission Process, Medical Education, MBBS Admission Counselling, Eligibility, Support for Entrance Examination, Student Visa guidance.
One-Stop Services and Documentation
We pride ourselves on our comprehensive services that simplify the complexity of the admission process. Our professional team provides streamlined documentation assistance to ensure that every document required, from academic transcripts to proof of financial capability, is accurate, authentic, and ready for submission.
Bangladesh has emerged as a preferred destination for medical education, offering world-class MBBS programs. The country boasts a high-quality education system with affordable tuition, English as a medium of instruction, and internationally recognized medical colleges. We at Fortune Education Consultancy hold hands with students to explore these opportunities, paving their path towards a successful medical career.
Admission Process and Counselling
Navigating the MBBS admission process in Bangladesh can be challenging. We break down the process into simple steps and provide step-by-step guidance, from the application stage to the final admission. Our experienced counsellors offer personalized counselling sessions to help students understand their options, choose the right college, and make informed decisions about their medical education.

Eligibility Criteria for MBBS Admission
ADMISSION PROCEDURE
ELIGIBILITY FOR ADMISSION Session: 2023-2024
Eligibility for admission in MBBS/BDS course in Bangladesh Govt. Medical and private Medical & Dental Colleges is approved by the Ministry of Health & Family Welfare (Medical Education Unit). Bangladesh govt. has formulated the following requirements for admission in MBBS/BDS course in the Govt. & private Medical & Dental colleges.
1. MBBS Course Eligibility of Candidates for International students:
2. For foreign students, all original certificates as mentioned in Primary Offer Letter in clause no (c) and original copy of CBSE-National eligibility cum entrance test (NEET) result, equivalence certificates need to be submitted at the time of admission , otherwise, admission will be hampered.
3. In case of national/foreign students admission will be invalid if any documents is found to be false or wrong, before or after admission. No extra foreign/national students will be admitted in excess of the number already specified by the govt. of Bangladesh.
MBBS Admission Eligibility criteria for International students
As of my knowledge cut-off in September 2021, the eligibility criteria for international students who wish to pursue an MBBS program in Bangladesh, including at Army Medical Colleges, typically include the following:
Nationality: The candidate must be a legitimate foreign national.
Academic Requirements: The candidate must have passed qualifying examinations (HSC/ 'A' level) or equivalent examinations. For example:
The student must have a minimum aggregate GPA of 7.0 in SSC / 'O' Level and HSC / 'A' Level.
In the 'A' Level, the student must have Biology, Chemistry, and Physics among their courses.
US Grade 12 or equivalent: A minimum GPA of 3.5 or equivalent.
Admission Test: Depending on the individual college's rules, international students may be required to take an admission test.
Medical Fitness: Applicants are expected to be medically fit. This is usually determined through a medical examination process.
Language Proficiency: Since the medium of instruction is English, students may also be required to demonstrate proficiency in English. For non-English speaking countries, students should provide evidence of an IELTS score or equivalent standard in the English language.
Please note that these are general guidelines and each medical college may have its specific eligibility criteria. Moreover, for admission into the Bangladesh Army Medical Colleges, international students may also need to comply with any rules set by the Armed Forces Division and the Ministry of Defense.
Every medical university has its eligibility criteria. We guide students to understand the prerequisites, which usually include a minimum aggregate in the high school Science stream, age requirements, and NEET (National Eligibility cum Entrance Test) qualification for Indian students. Our team ensures that all potential hurdles are addressed promptly.
Support for Entrance Examination
Our professional educators provide assistance with preparation for the entrance exams necessary to secure a spot in the MBBS programs in Bangladesh. We offer curated study materials, regular mock tests, and dedicated sessions to clarify doubts, enabling students to face the examinations with confidence.
Student Visa Guidance
Getting a student visa can sometimes feel like a daunting task, but at Fortune Education Consultancy, we aim to make this process as smooth as possible. We assist in filling out applications correctly, preparing for visa interviews, and ensuring students meet all the requirements set by the Bangladesh government.
Our mission at Fortune Education Consultancy is to provide you with an unparalleled educational journey, helping you secure your future in the medical field. Join us today to navigate your path to becoming a successful doctor with ease and confidence. Your medical career begins here!
List of Army Medical Colleges in Bangladesh
Army Medical College Jessore: This college, established in recent years, is part of the network of military medical colleges in Bangladesh, committed to offering the best education for aspiring doctors. The college provides an MBBS program, ensuring its students receive the highest quality of medical education through theoretical knowledge and practical experience.
Army Medical College Bogura: Also a part of the esteemed military medical colleges in Bangladesh, Army Medical College Bogura provides an excellent environment for medical learning. The college is known for its well-equipped facilities and highly experienced faculty. The college offers a comprehensive MBBS program, nurturing its students to become future-ready healthcare professionals.
Armed Forces Medical College, Dhaka: Established in 1977, this is the top military medical institution in Bangladesh. It offers a five-year MBBS program and accepts only the highest performing students through rigorous entrance exams. It is known for its high-quality education and state-of-the-art facilities.
Army Medical College, Chittagong: Founded in 2015, this college is known for its high-quality MBBS program. It is affiliated with Bangladesh University of Professionals (BUP) and its faculty consists of well-qualified Army and Civilian teachers.
Army Medical College, Comilla: Established in 2016, this college provides an MBBS program taught by experienced faculty members. The college is equipped with modern facilities to ensure students receive the best practical and theoretical medical training.
Army Medical College, Rangpur: This college was also established in 2016 and is affiliated with the Bangladesh University of Professionals. Known for its rigorous academics and excellent facilities, it offers an MBBS program that prepares students for a successful medical career.
All these institutions are operated under the guidance of Bangladesh Medical & Dental Council. These colleges aim to provide the best quality of education, preparing their students for future success in the medical field. Admission to these institutions is highly competitive, reflecting the high standard of education they provide.
Fortune Education Consultancy Offers Direct MBBS Admission at Best Medical Colleges in Bangladesh
Embark on a rewarding medical journey in Bangladesh with Fortune Education Consultancy. We offer students the opportunity to secure direct MBBS admissions at the best medical colleges in Bangladesh.
Pioneering Medical Education
We understand the dedication, focus, and ambition that fuels the dreams of every medical aspirant. Our strategic collaboration with the top-rated medical colleges in Bangladesh opens the gateways to the highest quality of education for our students.
Direct MBBS Admissions
Fortune Education Consultancy, we have simplified the admission process to provide a seamless experience. With our direct MBBS admission services, we eliminate unnecessary waiting periods, ensuring that your path to becoming a doctor is fast and hassle-free. We ensure a smooth transition from your home country to your medical college of choice in Bangladesh.
Our partnerships span across some of the best medical colleges in Bangladesh, including Armed Forces Medical College, Dhaka; Army Medical College Chittagong; Army Medical College Cumilla; Army Medical College Jessore; Army Medical College Bogura; and Army Medical College Rangpur. These institutions have established a reputation for their world-class education, state-of-the-art facilities, and a robust curriculum that nurtures future-ready healthcare professionals.
Guidance and Support
Our role doesn't end with securing your admission. We guide our students throughout their educational journey, offering advice, support, and solutions. From visa processing to accommodation, we take care of all the logistics, allowing you to focus solely on your studies.
Facilities in Army Medical College Bogura 1. Offers Affordable fees with 5 years Installment including (a) Tuition Fees (b) Twin sharing AC Hostel (c) Daily 5 times food (d) Laundry (e) Outfits (f) Game (g) Study tour (h) Transport etc.
Join us at Fortune Education Consultancy to pave a smooth path to your dream medical career in Bangladesh. We take pride in turning your medical aspirations into reality through our direct MBBS admission services. Start your journey with us today!