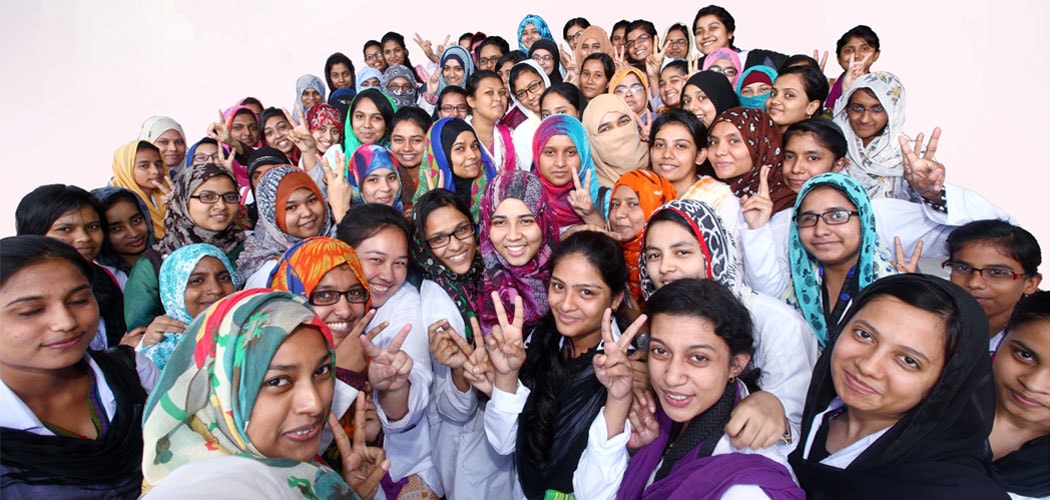 Women's Medical Colleges in Bangladesh
Women's Medical Education in Bangladesh
Women's empowerment in the medical field has been a focus in Bangladesh, leading to the establishment of dedicated women's medical colleges. Institutions like Sylhet Women's Medical College provide an environment tailored for female students, emphasizing women's health and leadership development.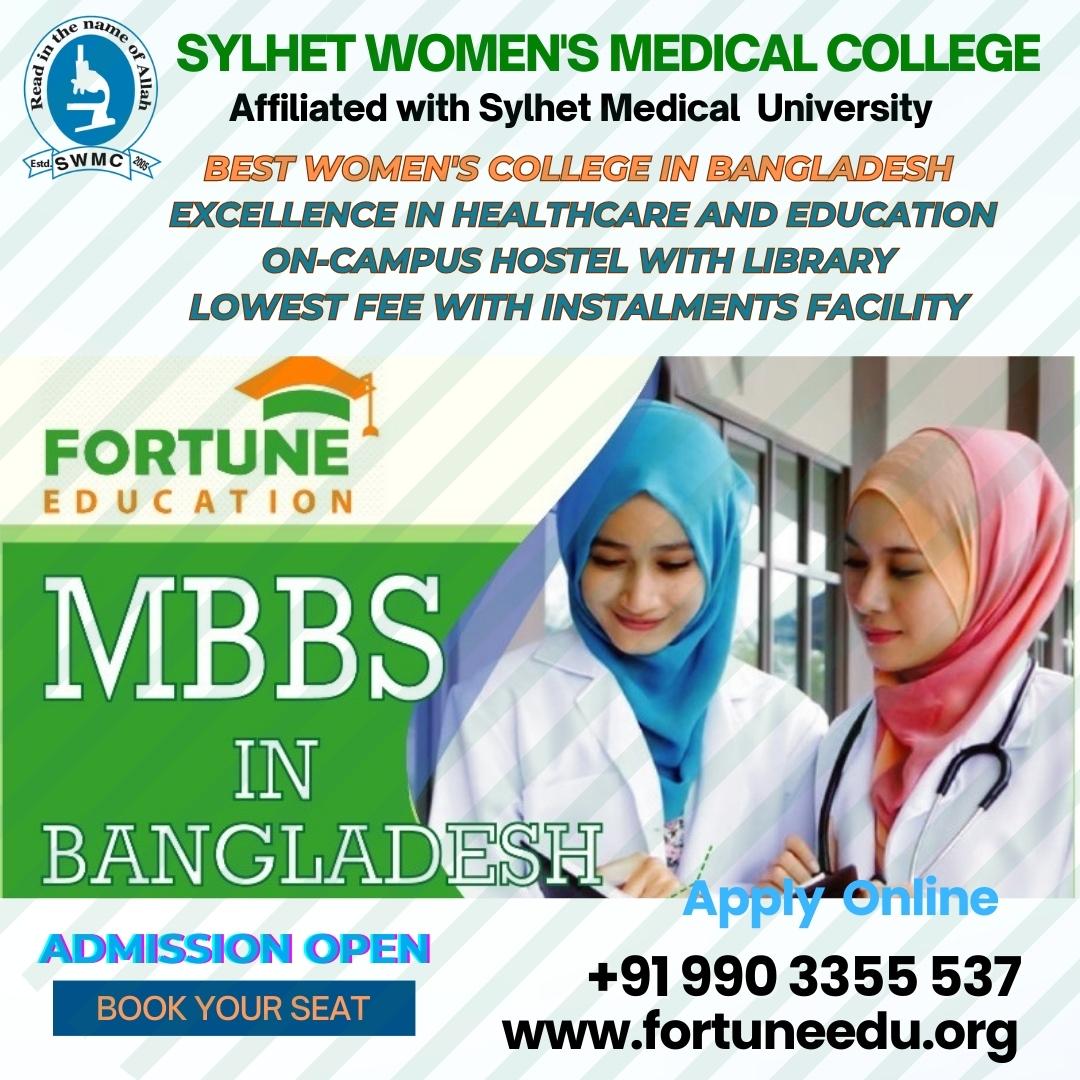 These colleges are equipped with modern facilities, experienced faculty, and opportunities for international collaboration. Women's medical colleges in Bangladesh are committed to nurturing the next generation of female medical professionals, addressing gender disparities in healthcare, and fostering an inclusive educational experience.
Sylhet Women's Medical College
Pioneering Women's Medical Education in Bangladesh
Sylhet Women's Medical College (SWMC), nestled in the picturesque city of Sylhet, stands as a hallmark of excellence in women's medical education in Bangladesh. As a leading institution, SWMC is dedicated to empowering future female medical professionals, ensuring they are equipped with the skills, knowledge, and ethics required to excel in the global healthcare industry.
Why Choose Sylhet Women's Medical College?
Inclusive Environment: SWMC provides an environment tailored for female students, emphasizing women's health, leadership development, and holistic growth.
World-class Infrastructure: The college boasts state-of-the-art laboratories, extensive libraries, modern lecture halls, and a fully equipped affiliated hospital for hands-on training.
Experienced Faculty: With a team of dedicated educators, researchers, and medical professionals, SWMC ensures students receive the highest standard of education.
Research & Innovation: SWMC encourages its students to engage in groundbreaking research, fostering innovation and a spirit of inquiry.
Community Engagement: Regular community health programs, camps, and awareness drives instill a sense of responsibility and commitment towards society.
Courses Offered
SWMC offers a Bachelor of Medicine, Bachelor of Surgery (MBBS) program, aligned with international standards and approved by the Bangladesh Medical and Dental Council (BMDC). The program focuses on a blend of theoretical knowledge and practical exposure, ensuring students are ready for their roles as competent doctors.
Admission Process
Admission to SWMC is based on the national entrance examination conducted by the Directorate General of Health Services (DGHS). The college maintains a stringent admission process, ensuring only the most deserving candidates secure a place in this esteemed institution.
Testimonials
"Studying at SWMC has been a transformative experience. The supportive faculty, advanced facilities, and enriching curriculum have shaped me into a confident and skilled medical professional." – Ayesha, MBBS Graduate
"SWMC's focus on women's health and leadership has empowered me not only as a doctor but as a woman. I am proud to be an alumna of this institution." – Fariha, Resident Doctor
Sylhet Women's Medical College is more than just an educational institution. It is a beacon of hope for aspiring female doctors, offering them a platform to learn, grow, and excel. Join us in our mission to shape the future of healthcare, one woman at a time.
The government medical colleges in Bangladesh have earned a reputation for providing world-class education at an affordable cost. These colleges are subsidized by the government, enabling students from various socioeconomic backgrounds to pursue a medical career. Recognized by the Bangladesh Medical and Dental Council (BMDC) and affiliated with leading universities, government medical colleges follow a rigorous curriculum, ensuring quality education.
Facilities at government medical colleges include state-of-the-art laboratories, extensive libraries, and well-equipped hospitals for practical exposure. Admission to these colleges is highly competitive, requiring students to pass a national entrance examination. Some of the renowned government medical colleges are Dhaka Medical College, Rajshahi Medical College, and Chittagong Medical College. With a rich history of producing top medical professionals, government medical colleges in Bangladesh are a beacon of excellence and opportunity.
Private medical colleges in Bangladesh have emerged as valuable alternatives to government institutions. These colleges offer advanced facilities, personalized teaching methods, and extensive research opportunities. Though the tuition fees are higher compared to government colleges, many private institutions offer scholarships and financial assistance.
Some top private medical colleges like North Bengal Medical College and Green Life Medical College have affiliations with international universities and organizations. Admission to private medical colleges is also based on the national entrance exam, and these institutions adhere to the regulations set by the BMDC. If you're seeking flexibility, modern infrastructure, and a diverse learning environment, private medical colleges in Bangladesh might be the right choice for you.
Top Medical Colleges in Bangladesh
Bangladesh is home to some of the top medical colleges in South Asia. These colleges offer MBBS, postgraduate, and specialized courses with a focus on hands-on training and research. The combination of quality faculty, advanced technology, and a curriculum aligned with international standards makes these institutions stand out.
Both government and private colleges have made it to the list of top medical colleges. Institutions like Dhaka Medical College, Bangabandhu Sheikh Mujib Medical University, and Enam Medical College have been recognized for their contributions to medical education and healthcare. Admission to these top colleges is highly competitive, reflecting their status as centers of medical excellence in Bangladesh.
Medical College Admission in Bangladesh
Admission to medical colleges in Bangladesh is a systematic and transparent process. Candidates must meet specific eligibility criteria, including academic qualifications in science subjects. The admission process includes a national entrance examination conducted by the Directorate General of Health Services (DGHS).
For both government and private colleges, admission is based on merit, with quotas for specific categories like foreign students and indigenous communities. Online application, centralized counseling, and well-defined guidelines make the admission process user-friendly. Students are advised to carefully review the requirements, deadlines, and procedures to ensure a successful application.
Identifying the best medical college in Bangladesh depends on various factors such as faculty, infrastructure, research opportunities, and alumni success. Both government and private colleges have been recognized as the best in specific domains.
Dhaka Medical College, for example, is renowned for its history and contributions to medical research. North Bengal Medical College is known for its modern approach and international affiliations. The choice of the best college depends on individual preferences, career goals, and financial considerations. Exploring rankings, testimonials, and guidance from education consultants can help in making an informed decision.
MBBS in Bangladesh 2024 Admission
Pursuing an MBBS degree in Bangladesh in 2024 promises to be an enriching experience. With a growing reputation in medical education, Bangladesh attracts both local and international students. The 2024 admission process is expected to be in line with previous years, with some possible updates in eligibility criteria or quotas.
Admission to MBBS programs in Bangladesh is merit-based, with a national entrance examination forming the cornerstone of the selection process. Government and private colleges offer MBBS courses, and students have a wide array of options to choose from. The 2024 admission process emphasizes transparency, fairness, and quality, reflecting the country's commitment to medical excellence.
Studying MBBS in Bangladesh in 2024 presents an opportunity to engage in an evolving medical landscape. The MBBS curriculum in Bangladesh is a blend of theoretical knowledge and practical experience, aligned with international standards. The focus on community health, research, and ethical practice makes the MBBS program in Bangladesh unique.
International students find Bangladesh an attractive destination due to its affordable education, quality institutions, and cultural richness. Collaborations with global health organizations and opportunities for internship and residency are additional advantages. Students aspiring to study MBBS in Bangladesh in 2024 can look forward to a stimulating and rewarding educational journey.
Bangladesh Medical College Admissions 2024
Bangladesh Medical College Admissions 2024 is a much-awaited event for aspiring medical professionals. The process is likely to begin with the release of official notifications, followed by online applications and the national entrance examination. Both government and private medical colleges participate in the centralized admission process.
Counseling sessions, document verification, and final seat allotment are stages that follow the entrance exam. Students are encouraged to stay updated with official announcements, adhere to guidelines, and seek guidance if needed. The 2024 admissions will continue to uphold the principles of merit, transparency, and inclusivity that define medical education in Bangladesh.
The eligibility criteria for MBBS in Bangladesh in 2024 are expected to include academic, age, and nationality considerations. Candidates must have completed higher secondary education with specified marks in science subjects, including Biology. A minimum age requirement is also likely to be in place.
Foreign students must meet additional criteria, including equivalence certificates and language proficiency if applicable. The detailed eligibility criteria are usually provided in the official admission notification, and candidates must review them carefully. Meeting the eligibility criteria is the first step towards a successful application for MBBS in Bangladesh in 2024, paving the way for a fulfilling medical career.
Guiding Your Path to Educational Success
Fortune Education Consultancy is an esteemed educational consulting firm that plays a crucial role in bridging the gap between aspiring students and their educational pursuits. With a commitment to providing personalized solutions, Fortune Education Consultancy enables students to make informed decisions about their academic future.
Services Offered
Educational Counseling: Expert counselors provide personalized guidance to students, helping them identify their interests, strengths, and career goals. This tailored approach ensures the perfect match between students and educational institutions.
Admission Assistance: From choosing the right course and college to managing applications and securing admission, Fortune Education Consultancy's team assists students through the entire admission process.
Scholarship Guidance: Financial constraints should not hinder educational ambitions. The consultancy offers guidance on scholarships, grants, and financial aid options available both domestically and internationally.
Visa Assistance: For students aiming to study abroad, the consultancy offers comprehensive support in visa application and processing, ensuring compliance with all relevant regulations and requirements.
Career Counseling: Future success starts with proper planning. Fortune Education Consultancy's career counselors assist students in understanding various career paths and planning their journey accordingly.
Study Abroad Programs: With connections to prestigious universities worldwide, Fortune Education Consultancy offers opportunities to study in various countries, ensuring a global educational experience.
Preparation and Training: From entrance exam coaching to language proficiency tests, the consultancy offers training and preparation courses to equip students with the necessary skills.
Why Choose Fortune Education Consultancy?
Experience and Expertise: With years of experience in educational consulting, Fortune Education Consultancy has a proven track record of success.
Personalized Approach: Every student's journey is unique, and the consultancy's personalized approach ensures that individual needs are met.
Global Network: The consultancy's connections with top universities and educational institutions worldwide open doors to endless opportunities.
Ethical Practices: Operating with transparency and integrity, Fortune Education Consultancy prioritizes students' best interests.
Conclusion
Fortune Education Consultancy stands as a beacon for students navigating the complex world of higher education. By offering personalized services, expert guidance, and comprehensive support, the consultancy empowers students to achieve their academic and career aspirations.
Whether looking to pursue education domestically or abroad, Fortune Education Consultancy provides the tools, knowledge, and confidence needed to embark on a successful educational journey. Contact them today to discover how they can help shape your future.
Note: Please validate and update this content with specific details about Fortune Education Consultancy, including contact information, locations, testimonials, or any other specific attributes that make this consultancy unique. The content may need customization to reflect the actual mission, vision, and services of the organization.