Eligibility for MBBS in Bangladesh for Indian Students

Eligibility for MBBS in Bangladesh for Indian Students
A candidate who wants to apply for MBBS in Bangladesh must follow the below required eligibility criteria. This eligibility criteria is for Indian students.
Age limit criteria Applicants should be no less than 17 years old and no more than 25 years old as of December 31 of the year of admission.
Qualification Candidates must have completed 10+2 and obtain at least 50% marks in general and OBC and 40% in reserved subject Physics, Biology and English as main subject.
The difference should not be more than one year.
If a student wants to apply, they must have successfully passed the 12th grade from the year 2019 or from the current year 2020.
Only students who have a certificate of graduation from the year 2019 and 2020 will apply
NEET Exam Candidates must have NEET qualification with minimum 60% score
Other documents Applicants must possess all original certificates and documents.
Bachelor of Surgery and Bachelor of Medicine is a bachelor's field of study in the field of medicine and surgery. Over the past few decades, Bangladesh has shown tremendous progress in education. With the development of time, Bangladesh has become a hot destination for medical aspirants to pursue MBBS in Bangladesh. It is a wise choice for Indian students as well as international students to fulfill their dream of becoming a doctor in Bangladesh. The specific reasons are given below:-
The quality of education is extremely good and is comparable to other developed countries.
The fee structure is low and affordable compared to other countries around the world.
Graduates can attend seminars and conferences in medical universities in Bangladesh to become successful doctors.
Bangladesh has top medical universities that offer world-class education and experienced and qualified staff/faculties.
Medical degrees obtained from medical universities in Bangladesh are recognized by the Medical Council of India and students can even come back and work in India.
Better prices for accommodation with all basic equipment.
 Advantages of pursuing MBBS in Bangladesh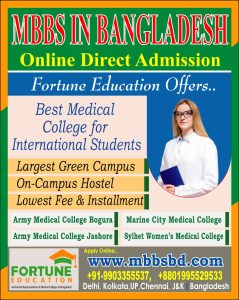 The MBBS degree is recognized by WHO and UNESCO and is accepted worldwide.
Benefits of MBBS in Bangladesh
The admission process is much easier as there are no direct admission criteria.
No donation is required to gain entry in Bangladesh.
Students studying in Bangladesh get the opportunity to complete their internship program in the world medical school, multinational companies and hospitals of the world.
Practical exercises and experiments are provided to students to improve their skills.
Bangladeshi hospitals are well equipped with great infrastructure and technology.
Food
Bangladesh is very similar to India. Food is available at a cheaper price.
Safety and security of Indian students
Bangladesh is a safe country for Indian or foreign students.
Medical School in Bangladesh ensures complete safety and security of students. Moreover, Bangladesh is a country with zero alcohol consumption.
MBBS in Bangladesh Accommodation for Indian Students
All medical colleges in Bangladesh provide hostel facilities to Indian and other foreign students or those who are away from home.
Hostels are located near the main campus.
The rooms in the hostel are well furnished. Rooms are available for single occupancy or sharing.
It is equipped with facilities such as a bed, wardrobe, study table, chair, shared TV, gym, sports field, etc. In addition, the campus is fully covered by CCTV cameras.
Fortune Education, Dhaka, Bangladesh is an authorized representative of several medical colleges and universities in Bangladesh and abroad. This means they have established partnerships and official agreements with these institutions, ensuring that students receive accurate and reliable information about the programs, admission requirements, and other necessary details.
Expert Guidance: As a pioneer leading education consultant for medical aspirants, Fortune Education offers expert guidance and counseling services to students who wish to study MBBS in Kyrgyzstan. They have experienced and knowledgeable consultants who can provide comprehensive information about the available options, help students choose the right university based on their preferences and eligibility, and guide them through the entire admission process.
University Selection: Fortune Education can assist students in selecting the most suitable medical college or university in Kyrgyzstan based on their academic background, budget, and career goals. They have access to a wide range of reputable institutions and can provide detailed information about the curriculum, faculty, facilities, and recognition of each university.
Admission Assistance: Fortune Education helps students with the entire admission process, including application form filling, document verification, and submission. They ensure that all necessary documents are prepared accurately and guide students in meeting the university's admission requirements. They also assist in securing student visas and provide support throughout the visa application process.
Visa Assistance and Travel Arrangements: Fortune Education assists students in obtaining the necessary student visa for studying in Bangladesh and abroad. They provide guidance on the required documentation, help students prepare for the visa interview, and support them in fulfilling the visa application requirements. Additionally, they can offer assistance with travel arrangements, including flight bookings and accommodation arrangements.
Pre-departure and Post-Arrival Support: Fortune Education provides pre-departure orientations to prepare students for studying and living in Kyrgyzstan. They offer guidance on adapting to a new culture, understanding the educational system, and managing practical aspects such as accommodation, banking, and healthcare. They also provide ongoing support to students after their arrival in Kyrgyzstan to ensure a smooth transition and help them settle into their new environment.
Fortune Education believes in personalized counseling to understand each student's unique requirements and aspirations. They provide individualized guidance, address students' concerns, and offer tailored solutions to ensure that students make well-informed decisions about their education and future career in medicine.
Fortune Education, as a recognized medical admission consultant, offers online direct MBBS admissions in reputed medical colleges abroad. With their expertise, extensive network, and comprehensive support services, they assist students in fulfilling their dreams of studying medicine and embarking on a successful medical career.
Online /Direct Admission & Seat Confirmation
Head Office:
23/C, Zigatola, Dhaka, Bangladesh.
Mobile & WhatsApp: +88-01995529533
Offices in India:
Mobile & WhatsApp: +91-9903355537