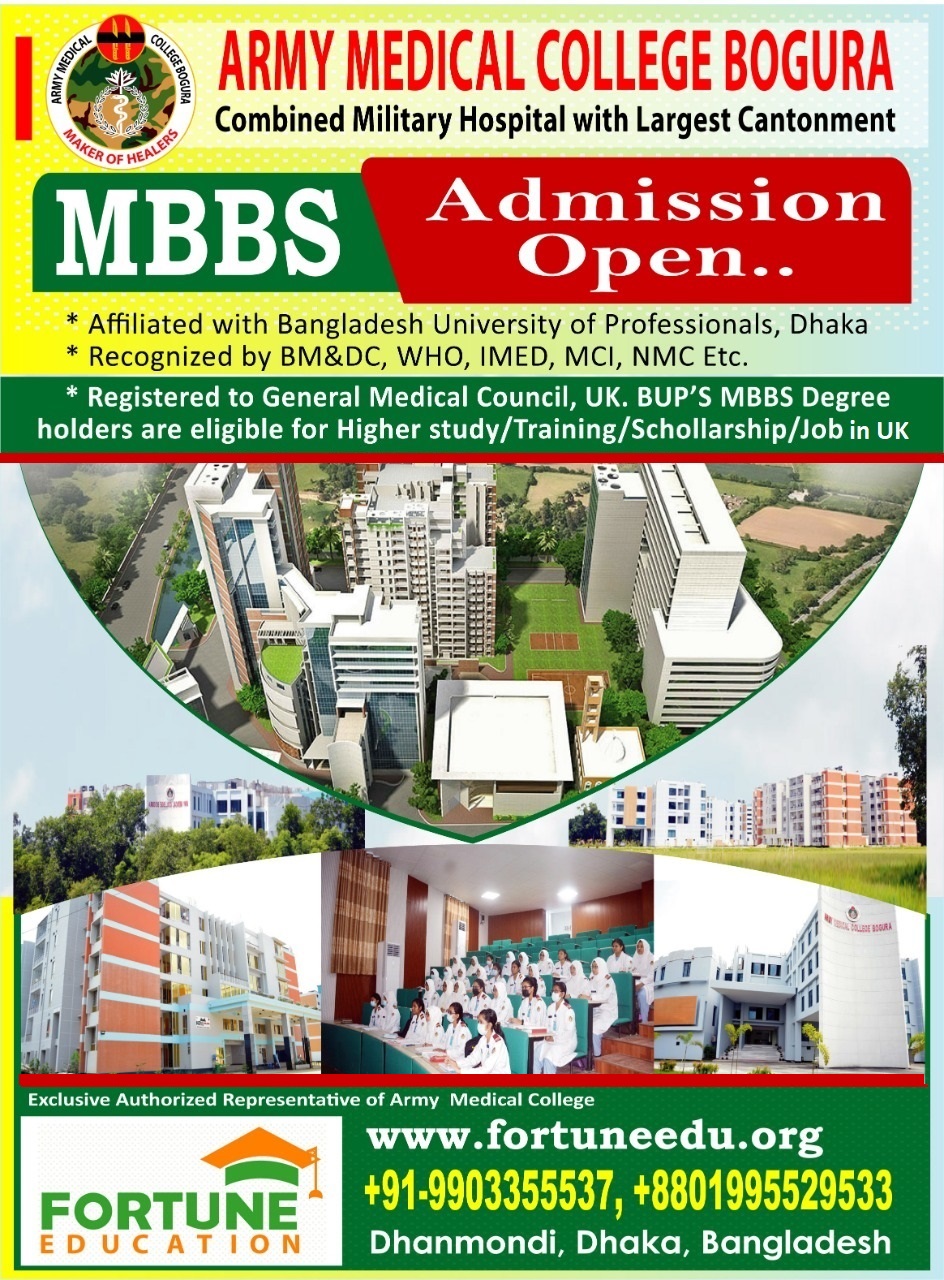 MBBS in Bangladesh Fee Structure
MBBS in Bangladesh Fees Structure
MBBS Fees in Bangladesh Top Colleges
MBBS in Bangladesh Total Cost
MBBS in Bangladesh fee structure Five Years MBBS Course Fees Details for foreign (India) Students to Study Medical in Bangladesh All Fees are valid for the 2023-2024 Session. Currency exchange rates may vary US Dollar (US$) vs Indian Rupees (INR). For any MBBS fees in Bangladesh, related queries contact FORTUNE EDUCATION (Call +91-99033 555 37) officially authorized to provide admission guidance and recruit students to the best medical college.
MBBS Course Fees in Bangladesh
MBBS in Bangladesh Fee Structure
| | | | | | | | |
| --- | --- | --- | --- | --- | --- | --- | --- |
| COLLEGE NAME | EST. | UNIV. | FEES IN US$ | 1ST YEAR PAYMENT | FEES IN INR | HOSTEL FEES | GPA |
| Bangladesh Medical College[1] | 1986 | DU | 49000 | 29000 | 3,634,697 | Taka 5000/month | 10 |
| Barind Medical College[3] | 2011 | RMU | 38000 | 11000 | 28,00,410 | Included | 7 |
| Community Based  Medical College | 1995 | DU | 44000 | 15000 | 3,014,943.37 | Included | 7 |
| Dhaka National Medical College | 1925 | DU | 48000 | 20000 | 3,560,520 | $100/month With Food | 9 |
| Eastern Medical College | 2005 | CMU | 42000 | 16500 | 30,95,190 | Included | 7 |
| Enam Medical College | 2004 | DU | 45000 | 20000 | 3,080,483 | Extra | 7 |
| Green Life Medical College | 2009 | DU | 42000 | 22000 | 2,877,900 | US$100/Month | 7 |
| Khwaja Yunus Ali Medical College [1] | 2005 | RMU | 43100 | 15000 | 2,950,195 | Included | 7 |
| Kumudini Women's Medical College [1] | 2001 | DU | 43100 | 15000 | 2,950,195 | Hostel Included | 8 |
| Medical College for Women's Uttara Dhaka [1] | 1992 | DU | 43000 | 21000 | 3,080,250 | AC Hostel $130/month | 9 |
| Monno Medical College [1] | 2011 | DU | 41500 | 15000 | 2,843,639 | Included | 7 |
| Southern Medical College | 2005 | CMU | 36000 | 18000 | 2,466,771 | Included | 7 |
| Sylhet Women's Medical College | 2005 | SMU | 42000 | 15000 | 2,601,100 | Included | 7 |
| Tairunnessa Memorial Medical College | 2002 | DU | 42000 | 16000 | 30,95,190 | Included | 7 |
| Uttara Adhunik Medical College[2] | 2007 | DU | 44000 | 20000 | 3,050,000 | $120/month | 7 |
All Medical Colleges under Government University which are NMC (formerly MCI) Approved. All payments direct from Guardian/Parents bank account to the college account. Lowest Budget MBBS Study in Bangladesh. Low travel costs. Other expenses include Food, Books, and travel. No Hidden Cost. Compare MBBS in Bangladesh fee structure 2023.
Good News for Indian medical aspirants seeking MBBS Admission in Bangladesh there will be no fee hike in few colleges this year, the fee remains the same as last year!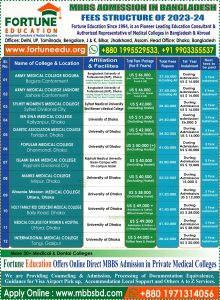 MBBS Fees in Bangladesh for Indian Students
Currency Exchange Rate US Dollar $1 = INR 81
Fees decided according to College Management.
The above Total Fees include all College Tuition Fees, Lab Fees, Development Fees, etc.
University Exam Fees Extra 10,000 Bangladeshi Taka = 8,000 INR for each University Exam Fee. Total Four Prof Exam in 5 years Total University Exam Fee 4 x 8000 = INR 32,000.
Food costs an extra actual per month mess bill.
Buy Medical Books Online Download Books Lists Here
Original Bones – Human Skeleton (No plastic bone-like China/Russia) – have to bear by a student in a group of 3-4 Indian students
No Hidden Charges or Hidden Costs. Travel cost and Food Charge Extra See Frequently Asked Questions
[1] In most demanding Medical Colleges, seats are fast filling.
[2] Bangladesh Medical College (BMC) 2nd Campus in Uttara, Dhaka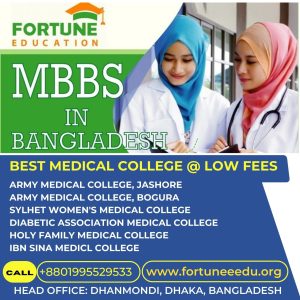 [3] Nearest to India, Only 2.5 hours from Boarder
List of Medical Universities in Bangladesh
DU= Dhaka University (University of Dhaka)
CMU = Chittagong Medical University  (Chittagong University)
RMU= Rajshahi Medical University (Rajshahi  University)
SMU= Sylhet Medical University
MBBS Admission in Bangladesh for Indian Candidates
For Prospectus and Information Brochures Contact
Fortune Education Pioneer & Leading Authorized Representative of Medical Colleges in Bangladesh & Abroad offers online direct MBBS and other courses admission with required consultancy services of higher study
Fortune Education is a pioneering and leading organization that serves as an authorized representative for medical colleges in Bangladesh and abroad. It specializes in offering online direct admission services for MBBS and other courses, along with comprehensive consultancy services for higher education.
Fortune Education facilitates the online admission process for aspiring students who wish to pursue MBBS (Bachelor of Medicine and Bachelor of Surgery) in renowned medical colleges. Through their platform, students can conveniently apply and secure admission without the need for physical presence.
Consultancy Services:
Fortune Education provides essential consultancy services to assist students in making informed decisions about their higher education. These services include:
a. Course Selection: Expert consultants guide students in selecting the right course that aligns with their interests, academic background, and career goals.
b. College Selection: With extensive knowledge of various medical colleges, Fortune Education helps students choose reputable institutions that meet their preferences and offer quality education.
c. Admission Assistance: The organization offers guidance and support throughout the admission process, including document preparation, application submission, and follow-up with colleges for a smooth admission experience.
d. Visa Support: Fortune Education provides valuable assistance in the visa application process, ensuring that students have the necessary documents and information to secure their student visa.
e. Financial Guidance: The organization offers advice and information on financial matters, including tuition fees, scholarships, and potential funding options.
f. Pre-Departure Assistance: Fortune Education assists students with pre-departure preparations, such as travel arrangements, accommodation, and familiarizing them with the new educational environment.
g. Post-Admission Support: Even after admission, the organization continues to provide support, addressing any concerns or challenges that students may face during their academic journey.
Study Abroad Opportunities
In addition to facilitating admissions in Bangladesh, Fortune Education also assists students in exploring study abroad opportunities. They provide guidance on admission procedures, college selection, visa support, and other essential services for pursuing higher education in renowned institutions overseas.
Fortune Education takes pride in its expertise, professionalism, and commitment to ensuring a seamless and transparent process for students aspiring to pursue a medical career or other courses. They strive to provide comprehensive support and guidance to students throughout their educational journey, enabling them to achieve their academic aspirations.
Fortune Education: Shaping Healthcare Professionals Through Expert Consultancy
Fortune Education is a leading medical education consultancy in Bangladesh, dedicated to guiding aspiring healthcare professionals on their path to success. Our holistic approach encompasses personalized guidance, seamless admission processes, and continuous support throughout your journey in the field of medicine.
Expert Guidance Tailored to Your Needs
At Fortune Education, we understand that every student has unique aspirations and goals. Our expert consultants provide personalized guidance, helping you navigate through the various options in medical studies available in Bangladesh. We provide comprehensive details about prestigious medical institutions, courses offered, and the prospects these courses hold for your career.
Streamlining Your Admission Process
Embarking on your medical studies journey involves an intricate admission process. With Fortune Education, this process becomes effortless. We guide students through every step, from completing application forms, preparing for entrance exams, to securing a seat in their desired medical institution. We represent several top medical colleges in Bangladesh, including Anwer Khan Modern Medical College, providing firsthand and accurate information.
Facilitating Financial Support
Medical studies can be financially challenging for many students. At Fortune Education, we assist students in understanding and applying for various financial aid options and scholarships. Our goal is to ensure that financial constraints don't impede your dream of becoming a healthcare professional.
Continuous Post-Admission Support
Our commitment to students extends beyond admissions. Fortune Education provides comprehensive post-admission support, including assistance with visa procedures for international students, accommodation arrangements, and pre-departure briefings. This continuous support ensures a smooth transition into your new academic life.
Fortune Education facilitates the online admission process for aspiring students who wish to pursue MBBS (Bachelor of Medicine and Bachelor of Surgery) in renowned medical colleges. Through their platform, students can conveniently apply and secure admission without the need for physical presence.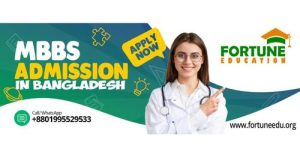 Fortune Education
Pioneer & Leading Authorized Representative of Medical Colleges in Bangladesh & Abroad
Head Office: 23/C, Zigatola, Dhaka-1209, Bangladesh
Bangladesh: +8801995529533
India: +919903355537